The Great Antarctic Bake Off – Ancient Recipes Retrieved from the Ice
Among the snow melters and assorted polar paraphernalia, several tins of baking powder have lent an unusual touch of domesticity. The tins are handsome, wrapped in pale green paper with printed representations of prize medals won at different world exhibitions and detailed instructions on how to make several baked goods.
And for anyone interested in turn-of-the-century baking, the instructions are very polite, if not always too helpful. Bakers are recommended to use, for bread: '…a tea-spoonful heaped of the powder and the usual amount of salt'. How much the 'usual amount' actually is, it doesn't say.
Further, the bread should be mixed dry before adding about half a pint of cold water, kneaded as little as possible and put into a previously warmed tin. 'It is desirable that it should be put into the oven with as little delay as possible, but should the time exceed twenty minutes it is most important that the oven should be sufficiently hot. It is recommended that parties should not try large loaves until they have first accustomed themselves to small ones or tea cakes.'
Have you lost your grandmammy's recipe for Norfolk Dumplings, or perhaps like me have never heard of them? Never fear, C & E Morton Baking Powder is here to help. According to the label : 'Prepare as for bread, put into boiling water immediately, and boil twenty minutes without taking the lid off.'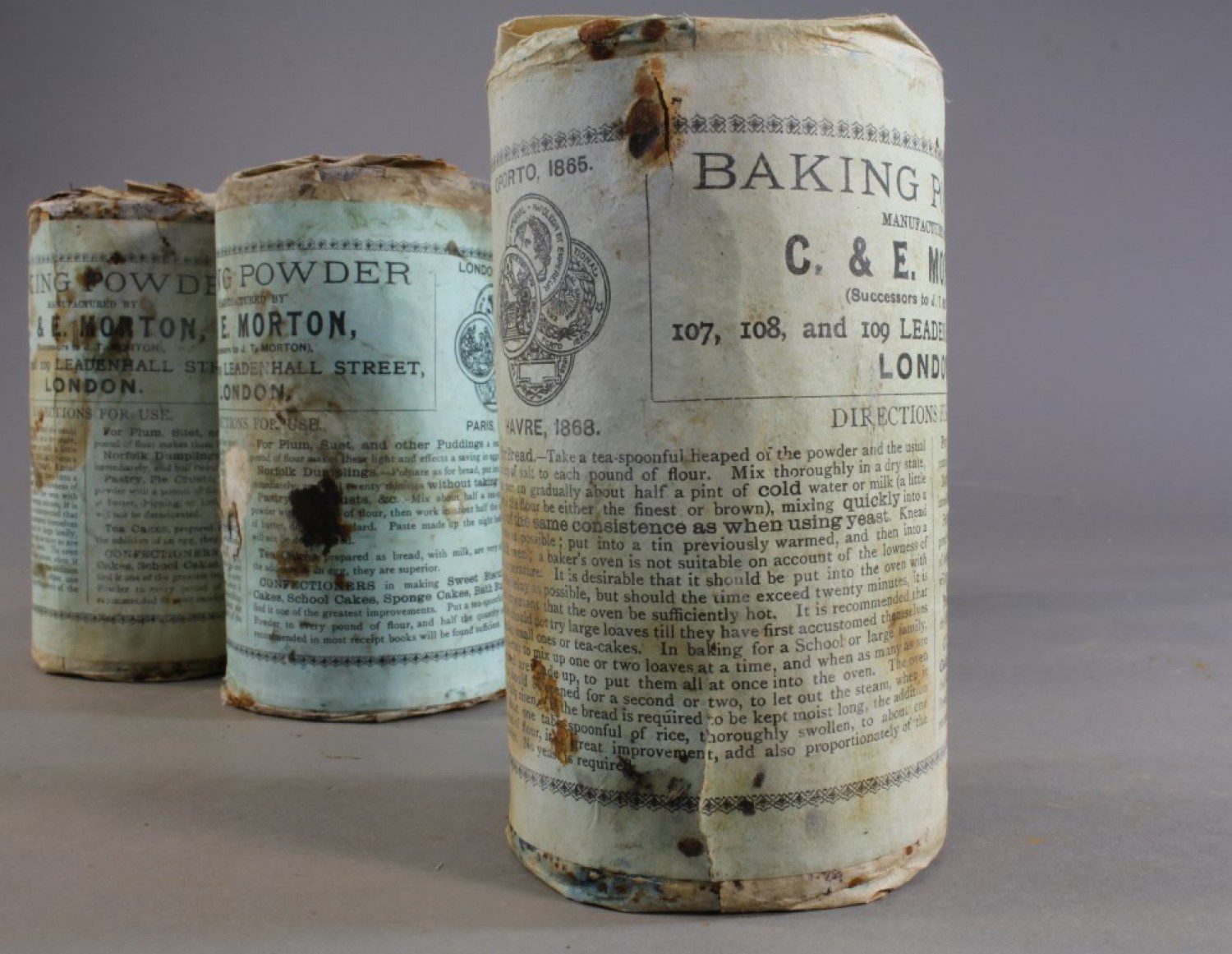 Antarctic Heritage Trust
And for anyone who thought self-raising flour was some sort of modern new- fangled thing to be viewed with deep suspicion, we have a crate of Limmer's Self-Raising Flour tins from depots at Butter Point, left there in 1910 by Scott's Northern Party.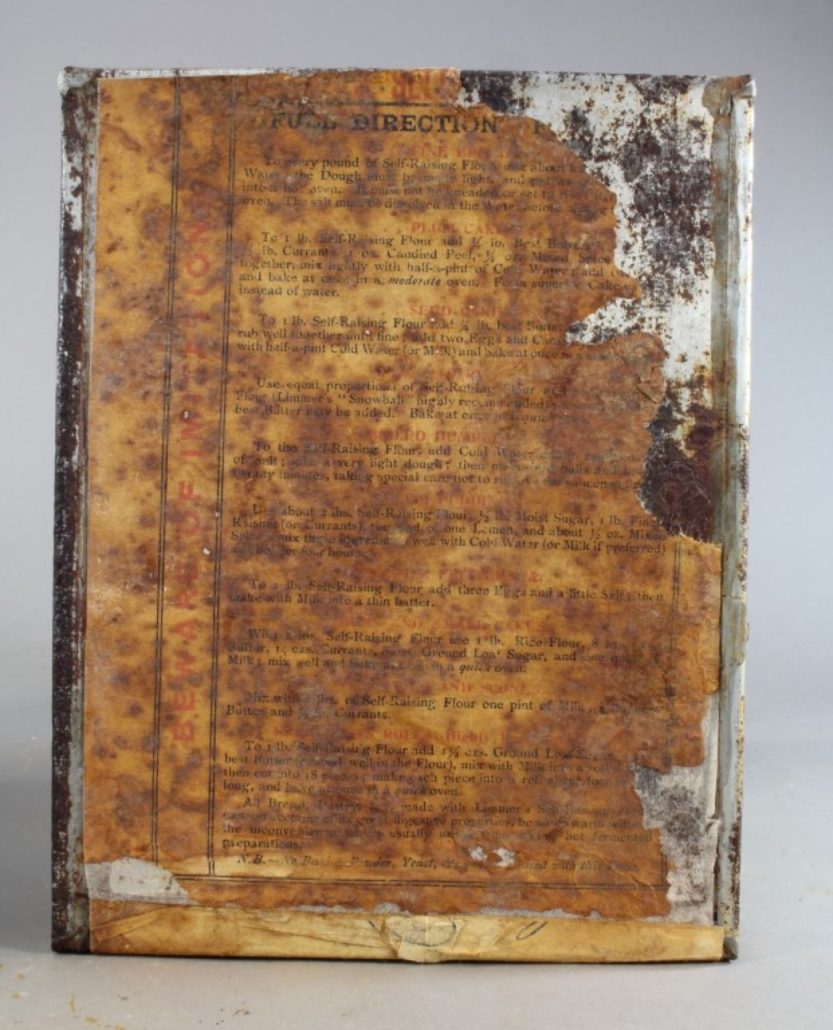 Antarctic Heritage Trust
As with the baking powder there are recipes for several baked goods on the back, from Fine Bread to Scones and Boiled Dumpling. Sadly as the tins have been stored in a crate, outside, in one of the harshest environments on the earth, they are somewhat difficult to read; but a recipe for plum cake can be made out by the eagle eyed: 'To 1 lb. Self-Raising Flour and ¼ lb. best Butter, ¼ Sugar, ½ lb Currants, 1 oz. Candied Peel, ¼ oz. Mixed Spice together, mix lightly with a half-a-pint of Cold Water: add two eggs and bake at once in a moderate oven. For a superior Cake use Milk instead or water.'
Sound tempting? We recommend trying it with tinned Fry's Cocoa powder, C & E Mortons Essence of Vanilla or Lemon and tinned Bird's Egg Powder (not actually made from eggs).
https://nzaht.org/wp-content/uploads/2017/04/c-e-morton-baking-po58e1d3ce27cb13.92738689-1500x.jpg
1108
1500
Comms
https://nzaht.org/wp-content/uploads/2019/03/logo-dark.png
Comms
2017-04-03 01:05:11
2019-04-30 09:17:03
The Great Antarctic Bake Off – Ancient Recipes Retrieved from the Ice